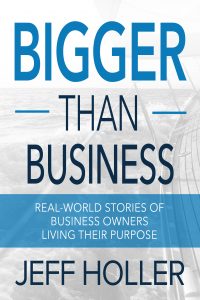 Bigger Than Business: Real-World Stories of Business Owners Living Their Purpose brings you eight inspiring and thought-provoking stories of Christian business owners from six continents living out the purpose for which God created them in their unique business settings. Through their transparent, true-life stories and the wisdom they convey, you will become better equipped to fully and effectively serve God right where you are – in and through the business that God has entrusted to you, thereby fulfilling the purpose for which God created you. With renewed enthusiasm, you will have greater clarity, commitment, courage, capabilities, and confidence to continue to build and grow as your ministry the business that God has entrusted to you.
What the experts are saying...
Jack Herschend
Co-founder, Herschend Family Entertainment
---
"A must read for those who seek significance as well as success!"
Jim Daly
President, Focus on the Family
---
"As Christians, we know that God can use our involvement in any profession to help grow His kingdom. The corporate world, however, can make that calling seem especially daunting. Through a series of engaging biographical accounts, Jeff Holler shows us what it looks like to run a business with excellence, integrity, and wise stewardship."
Norm Miller
Chairman, Interstate Battery Systems of America
---
"In Bigger Than Business, Jeff Holler brings to life the accounts of people who, like me, have been changed by God's power and have applied the truths of His Word to how they operate their businesses. You'll be particularly inspired by how each individual featured in this book fervently seeks the Lord, responds to His direction, and then experiences God's presence to deepen or heal their personal relationships, bless their businesses, and bring great glory to Him."
Bill High
CEO, National Christian Foundation Heartland, Author and Speaker
---
"Through powerful stories of real life people, Bigger than Business raises the right questions and provides thoughtful answers about life, faith, and business. I commend this book to all who want to live richer, more meaningful lives."
Mike Sharrow
President and CEO, The C12 Group, LLC
---
"Too few know the stories of saints in the marketplace who have pressed into God's upper story and seen remarkable advances of God's kingdom through business. These biographies will expand the thinking of those who read them and hopefully inspire a grander vision for what God can do in and through a faithful business person!"
Christian Ponder
Former National Football League and Florida State University quarterback
---
"In a society that urges us to separate our work and spiritual convictions, Jeff provides inspiring examples of those who have refused to check their faith at the office door. I came away encouraged and challenged to not only see business as an opportunity to honor God, but a call to practically and sacrificially trust Him with every dollar and talent He's given me."
Lawrence J. Rybka, JD, CFP
President and CEO, Second-generation Owner, ValMark Financial Group
---
"Jeff brings to life the stories of entrepreneurs around the world that have realized that God can work through them to minister to people through their business as effectively as had they become pastors. It is exciting to read the stories of people who are making a difference as stewards of the business with which God entrusted them as they live out the admonition of St. Francis of Assisi: "Preach the Gospel at all times, and when necessary use words."
Dan Sullivan
Founder and President, The Strategic Coach Inc.
---
"Nothing is more satisfying and liberating for an entrepreneur than having your business be the means to fulfill your biggest purpose in life. Creating such a business, which is unique to each individual, requires vision, self-knowledge, and the right mindset. This book expands thinking on all three of these fronts for those who find their highest purpose in Christ."
Paul Weber
President and CEO, Family Policy Alliance
---
"A must read for families and for the family of believers, Jeff Holler masterfully weaves together the experiences of Christ-following entrepreneurs worldwide to reveal God's all-too-common story; only out of a gratitude to the Savior can true generosity flow. And, because of gratitude, Christ-followers can understand the power of 'God owns it all.'"
Peter J. Kubasek
Founder and Managing Partner, ArkMalibu
---
"Jeff has done a beautiful job, inviting us into the lives of his friends who are profiled in this awesome guide. When I stop to ponder and write notes while I'm reading a book, I know it's a great one. And when I start sending emails containing excerpts of the book to friends, I know I have found a wonderful learning guide. Well done, Jeff, and thank you."
J. Dale Dawson
Founder and CEO, Bridge2Rwanda
---
"The inspiring stories in Jeff's book are a reminder to all of us that entrepreneurship is a divine calling and that, in God's hands, business is one of the kingdom's most powerful instruments of transformation. The world needs more marketplace leaders committed to fulfilling a bigger purpose."
Jason Brown
Chief Marketing Officer, Marketplace Chaplains
---
"The Lord has shown Jeff the exact stories of emunah—faith with action—to illustrate people and their stories of receiving God's instruction and then acting upon it, not knowing the entire process or final result. These stories should inspire many who have the heard the direct call of God to do one particular thing, but who are stuck in neutral because of fear. In today's consultative world, we have too many big visions, expertly-crafted mission statements, and core value words on posters and websites; what is lacking is the bold action to move from strategy and planning to implementation and the long process of hard work, uncertainty, and release of selfish anchors to fulfill what God's plan is and what He needs you to do in order to accomplish it. These stories should encourage one to let go and start moving!"
Lane Kramer
Founder, The CEO Institute
---
"Bigger Than Business is an outstanding handbook for any Christian business owner or CEO who is truly focused on wanting to build a kingdom-centered company. Each of the chapters is like one facet of a diamond. When read in totality, the reader will have a full understanding of the purpose and underpinnings of a kingdom business."
C.W. "Dub" Stocker, III
Founder & Former CEO of Lonestar Resources, Inc.
---
"Jeff Holler' s collection of stories implicitly describes the deep loneliness we all face when we are not in proper relationship with Jesus. God created us for relationship with Him and each other in all aspects of our lives. These stories are filled with undeniable affirmation of the efficacy, joy, and peace of bringing our relationship with God to work with us every day."